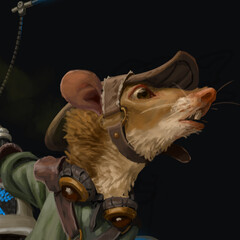 Jerome Jacinto
Freelance Illustrator and Concept Artist
Quezon, Philippines
Summary
-10 years experience as a freelance artist with over a dozen clients ranging across media, from video games, book illustrations, and feature film.
-Experience creating original content as well as working within established IPs.
-Used to working as a member of a larger artistic team, taking feedback and building skills as needed for each project.
Skills
Concept Art
Character Design
Illustration
Environment Design
Software proficiency
Productions
Video Game

Ghost Of A Tale

Year

2018

Role

2d Artist

Company

SeithCG

Mobile Game

Moonga

Year

2010

Role

Card Illustrator

Company

Everdream Soft
Experience
Collaborating with lead developer to illustrate character portraits for the upcoming stealth adventure game Ghost of a Tale for Xbox One and PC.

Concept Artist, Illustrator at BfB Labs

December 2015 - September 2017

Illustrating concept art and card designs for Champions of the Shengha, a mobile card-based multiplayer game that utilizes meditative breathing as the primary game mechanic. Collaborated with art director to illustrate character concepts, creatures, environments, apparel, and weapons.

Card Illustrator, Animator at League of Geeks

Collaborated with a team of artists to illustrate and animate a series of cards for Armello, a digital multiplayer board game for PS4, PC, and Xbox One.

Character Design Work at Soma Games

January 2015 - January 2015

Provided key character concept art for use by Soma Games in their upcoming PC adventure title, Redwall: The Warrior Reborn, based on the award winning book series.

Concept Artist, Illustrator at Pocketwatch Games

Collaborated with the team to develop general art direction of their

upcoming game Tooth and Tail. Worked on concepts and illustrations for the game's

characters, vehicles and several marketing and promotional illustrations.

Concept Artist, Illustrator at Mage Company LTD

September 2012 - August 2015

Designed and illustrated the majority of the visual elements for the

board game 12 Realms and a number of its succeeding expansions.

Card Illustrator at Dire Wolf Digital LLC, 2012 - 2013

Completed several pieces of card artwork for unreleased title based on a major MOBA IP.

Concept Artist, Illustrator at Digital Art Chefs

Marikina, Philippines

August 2008 - January 2010

Coordinated with the creative team on the visual development and concept design of characters and environments for film and various video game IPs. Worked on illustrations for comics and pinups.